Weep not for me though I am gone,
Into that gentle night.
Grieve if you will, but not for long,
Upon my soul's sweet flight.

I am at peace, my soul is at rest,
There is no need for tears.
For with your love I was so blessed
For all those many years.

There is no pain, I suffer not,
The fear now all is gone.
Put now these things out of your thoughts,
In your memory I live on.

Remember not my fight for breath,
Remember not the strife,
Please do not dwell upon my death,
But celebrate my life.

Author Constance Jenkins
In February this year we CELEBRATED her 14th birthday, now we CELEBRATE HER LIFE

"Abbey" Kershaw


INGENUE Minuet
1999 - 2013

Dam: Australian Champion INGENUE Little Mo "Beanie" (01/01/1995 - 24/06/2007)
SIRE: Australian Champion TRIMEL Lord Thomas "Thomas" (11/04/1990 - 24/12/2002)

Run Free "Abbey"



"It is with great sadness that we send this email to let you know that Abbey passed away on Thursday 12th September, she was 14 years and 7months old.

A beautiful soul and we miss her dearly. Abbey was loved by so many people and our home will not be the same without her.

God bless our beautiful Abbey."

Sheryll and Les


"Harry"
15/04/2000 - 13/08/2012

At 2 years of age, "Harry" went to live with Carl & Sheryl Quagliata & their daughters.
It was with great sadness they emailed me that he had left them.

For their love & care of Harry, THANK YOU does not seem adequate.

Run Free old boy.......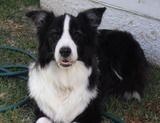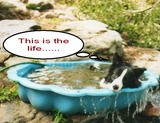 "Betsy"

31/05/2001 - 30/05/2009

One day short of her 8th birthday "Betsy" lost her battle with cancer.

I will miss you my girl.

RUN FREE